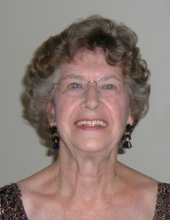 Obituary for Christine Nellie Nummer
Christine Nummer was born February 24, 1932, and grew up in Royal Oak, Michigan. She was like a second mother to her brothers, even the older ones, who remained devoted to her all their lives. She attended Royal Oak High School and Oakland University.  

In the 1950s, Christine was one of the first women hired at the Chrysler Missile plant, where she met her husband George. When she saw him for the first time, she said, "I'm going to marry that man." During their nearly 60 years of marriage, they raised four children--Mark, Michael, Bradley and Alice--and welcomed four grandchildren--Clayton, Trent, Lance and Emily. Their home in Clawson, which they've owned for 50 years, was a frequent stop for a long list of friends and family.  

Christine and George traveled the world extensively. Europe, Russia, Panama, Egypt, Japan, Australia, and all across the United States. The trip that meant the most to her was their trip to China. She broke into tears when she saw the Great Wall.  

George and Christine were active members of the Trinity Evangelical Lutheran Church in Clawson and strong supporters of the Susan G. Komen 3-Day Breast Cancer Foundation. She also loved reading, crossword puzzles, a nicely-chilled Riesling, square dancing, matinees, nickel slots and river cruises.  

A highly spiritual person, Christine Nummer went to her reward with peace and grace after a brief illness on August 23, 2018.  

She is survived by her husband, George; her sons Michael Angelo, Bradley (Mindy) Nummer, and her daughter, Alice (John) Woodward; grandchildren Clayton (Cory Taylor) Nummer, Trent Chamberlin, Lance Chamberlin and Emily (Adam Gac) Nummer; brothers, Carl (Keiko) Clines and Earl (Betty) Clines. She was predeceased by her son Mark Nummer; her brothers Louis Clines, Allen Clines and John Clines; and her sister, Geraldine Clines and Juanita Clines.  

Donations in Christine's memory can be made to the Susan G. Komen 3-Day Breast Cancer Foundation at this site: http://www.the3day.org/site/TR/2018/MichiganEvent2019?px=1366630&pg=personal&fr_id=2030

or Trinity Lutheran Church of Clawson, Michigan.
Previous Events
Memorial Gathering
Trinity Evangelical Lutheran Church
749 W 14 Mile Rd
Clawson, mi 48017
Service
Trinity Evangelical Lutheran Church
749 W 14 Mile Rd
Clawson, mi 48017