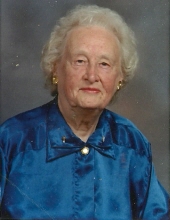 Obituary for Arlene Marian Roe
Arlene Marian Roe, a resident of Sterling Heights and formerly of Clawson, passed away on Friday August 10, 2018 at the age 89. She was born to her parents Olaf and Helen Johnson on November 15, 1928. 

Arlene was very active at her church and loved to help others. In her spare time, she enjoyed reading, talking on the phone, spending time outdoors, and gardening.  But most of all, she loved spending time with her family.  She was a great wife, mother, grandmother, and great-grandmother, who is now an angel in Heaven.

Arlene is survived by her son Allan P. Roe; grandchildren Michelle Norman, Jennifer Roe, and Paul W. (Jill) Roe; great-grandchildren Jocelyn Roe, Danny Bayhan, and Elliethia Grace Roe; and daughter-in-law Janet Kingstrom.

She is preceded in death by her husband Jean Paul Roe III, parents Olaf and Helen Johnson, daughter Cheryl D. Kinney, and brother Kenneth Johnson.