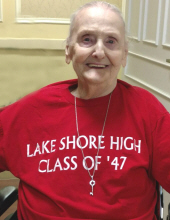 Obituary for Carolyn Isabelle Gardner
Carolyn Isabelle Gardner formerly of St. Clair Shores, Michigan passed away peacefully Tuesday, July 17, 2018; at the age of 88. She was surrounded by her loved ones at St. Joseph Mercy in Fraser Villa. 

Carolyn loved playing pinochle and euchre. She was a wonderful dancer and had dreams of becoming a ballroom dancer. Her favorite things to do were going to the casino and playing video poker. She spent many vacations in Lewiston, Michigan on West Twin Lake with her family fishing, boating, and snowmobiling.

She loved people and touched the lives of all that she came in contact with, with her sense of humor and quick wit. 

Carolyn was a 1947 graduate of Lake Shore High School in St. Clair Shores, Michigan where she was promoted 2 grade levels. Carolyn attended her 70th high school reunion in 2018 and had so much fun that she was looking forward to her 71st reunion.

She lived the majority of her life in St. Clair Shores, Michigan where her and her late husband, John raised 6 children.

Survived by her children; Kenneth (Nancy) Vannatter, Diane (de: Tom) DeWitte, Suzanne (Michael) Torres, Rosemary (Kevin) Goldstein, Johnna (Gregory) Smith, Stuart (Lori) Gardner, many grandchildren, nieces and nephews.

She was predeceased by her late husband, John and baby son, Charles. Her parents, Fredrick and Thelma (McIlwain) Heuft and her four siblings.

Carolyn will be missed by all who knew her.
Previous Events
Memorial Gathering
Gramer Funeral Home – Diener Chapel
48271 Van Dyke Avenue
Shelby Township, MI 48317
Service
Gramer Funeral Home – Diener Chapel
48271 Van Dyke Avenue
Shelby Township, MI 48317