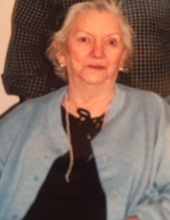 Obituary for Ruth Pauline Machon
Ruth Pauline Machon passed away on Saturday, May12, 2018 at Martha T. Berry Medical Care Facility in Mt. Clemens, MI.  She was 88 years old.  Ruth was born on August 12, 1929, in Marysville, Tennessee. 

Ruth is survived by her daughter, Donna Zabik and son Eugene (Sue) Price Jr.  She is also survived by her grandchildren Tim (Christine) Hembree, Jeremy Kuharchek,Angie (Matt) Mason, and Jessica, Abbey, and Emily Price. Ruth is survived by Great grandchildren Cody and Austin Neuman, Emma and Blake (Tim) Hembree. 

Ruth is preceded in death by her husband Richard Machon, Daughters Paula (Mark) White and Sally (Bruno) Kuharchek, Grandchildren Tommy and Corey Hembree, Shaun and Justin Kuharchek.