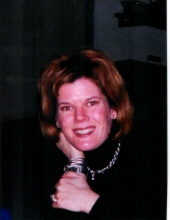 Obituary for Amy Lynne Goodwin
AmyLynne Goodwin, age 55, a resident of Glenview, Illinois died unexpectedly May 1, 2018 after suffering a heart related illness at her home. 

Beloved daughter of Lynne Goodwin and (the late Paul Goodwin). Dear sister of Keith, Brian, and Bradley (Julie) Goodwin.  Dear aunt of Brandan, Kevin, Carson, Luke, Braxton, and Nicklaus Goodwin. Special cousin of Elizabeth Schultz..  Niece of Lorene (the late Steve) Michalek, Jean McDougall (the late Jack), Carol Riegler and Uncle Lee (Elise) Merrelli.    

Amy was schooled in England and Switzerland where she lived with her family for 5 years.During this period, she began to gather life-long friendships.  When she returned to the UnitedStates, she attended and gradutated from Central Michigan University where she was affiliated with ZTA sorority and continued to garnish friendships that still last.   

Amy became a world-wide traveler both domestically and internationally through her work with American Airlines.  She was a flight attendant for over 30 years.  For personal pleasure, Amy traveled extensively with her mother, family and friends. 

She had a passion for cooking. Often she would do it with her brother, Keith,  for family dinners at her mother's home in Troy, MI.  She also cooked for her airline crew. They looked forward to her quiche, banana bread, and cookies.To quote a fellow attendant, "Always a pleasure when Amy ran the galley". 

She was quite a "fashion plate" as witnessed by her log-in ID----Prada4me. She was stylish even on the golf course.  However, one of her favorite stores was the "Dollar Tree".   

Amy was generous with her possessions with both her family and friends. 

She felt blessed and liked to share what she could -----often times secretly. 

Amy was a spiritual person.  She was pleased to be able to see Pope Francis and believed her grandmother was her spiritual guide. She often prayed in churches in countries she visited. 

Her humor, generosity and love will be missed by everyone.  She is now reunited with her beloved father, grandparents and uncles. 

Death leaves a heartache no one can heal.
Love leaves a memory we all deeply feel.
Previous Events
Visitation
Gramer Funeral Home
705 North Main Street
Clawson, MI 48017
Service
Gramer Funeral Home
705 North Main Street
Clawson, MI 48017
Memorial Contribution
Capuchin Soup Kitchen
Development Office
1820 Mount Elliott Street
Detroit, MI 48207