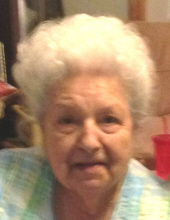 Obituary for Elizabeth Ann Mosner
Elizabeth Ann Mosner, 92, passed away peacefully at her home on April 10, 2018 in Roscommon, MI.  Visitation will be held at Gramer Funeral Home on April 13th from 4-8pm.  Funeral services will be held at Gramer Funeral Home on April 14th at 12pm. Burial will follow at White Chapel Cemetery.  

Elizabeth was born in Troy, MI to Paul and Lena Fiore on May 11th 1925.  She attended school at Log Cabin School in Clawson, MI.  She was married to the late Robert Mathy and the late Walt Mosner.  She was a business owner.  She was a member of the Elks, Eagles and American Legion.  Elizabeth enjoyed bowling, golfing, reading, going to the casino and traveling.  Elizabeth was most happiest spending time outdoors gardening and would often say "you will never be closer to God than digging in the Earth."  Elizabeth loved her family and friends very much and enjoyed spending time with them.  Elizabeth enjoyed sharing stories and memories from her past.  Elizabeth was known to have a story for just about anything.  Elizabeth was a wonderful daughter, mother, sister, aunt, grandmother and great grandmother. 

She is preceded in death by her parents, Paul and Lena Fiore, husbands, Robert Mathy and Walt Mosner, sons, Robert and Michael Mathy, brothers, Paul, Bobby and Roy Fiore and sister, Marie Burkman.   

She is survived by daughters, Kathryn Kearney and Shirley Reilly, sisters, Angie Fiore, Bernice Fetting, and May Macheas, brother, Ray Fiore, grandsons, Robert, Freddy, Raymond, Matthew, Michael, Thomas; granddaughter, Rachael and great granddaughters, Jordyn, Alecia, Jenna, Ashley and great grandsons, Jacob and Justin and one great-great granddaughter, Raelynn. And many loving nieces and nephews.
Previous Events
Visitation
Gramer Funeral Home
705 North Main Street
Clawson, MI 48017
Handicap entrance is located on the north side of the funeral home under the carport. Please call in advance if you would like assistance. (248) 435-9010
Service
Gramer Funeral Home
705 North Main Street
Clawson, MI 48017