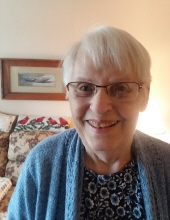 Obituary for Audrey Margaret Wilson
Audrey (Peg) Wilson passed away peacefully on Friday March 2nd, 2018. Audrey leaves behind a family that loves her dearly and misses her more each day. Audrey was preceded in death by her loving husband of 57 years Robert (Bob) Wilson. Bob and Peg leave behind four daughters, Gail (Mike) Slanaker, Kathy (Dave) LaFerle, Amy Rehdorf, and Heather El-Khoury, six grandchildren, Liz Collins, Suzanne (Russell) Galley, Charles Rehdorf, Audrey El-Khoury, Richard El-Khoury, and Vinny El-Khoury, and 4 great granddaughters, Liza Galley, Tylar Collins, Charlotte Galley, and Ryann Collins. Audrey also leaves behind a brother James and a sister Judy, both in Arizona.
Audrey was born in Detroit on March 18th 1932, losing her mother the same day; she was raised by her maternal grandmother surrounded by her aunts and uncles. She often talked of family dinners that she enjoyed where the day's news was shared and debated. She loved being the oldest cousin and when all the cousins were together, she planned elaborate plays that they would put on for her aunts and uncles. Family was very important to her.
Music was one of Peggy's first loves, she learned to play the piano and sing. She was active at church and sang in the choir. She also made a recording that she was very excited about and shared with her children later.
As a teen, she and her grandmother moved to Clawson to live with her Aunt Liz and Uncle Sandy and their two daughters Alice and Patty. She attended Clawson High School and worked for Dr. Reid in town.
After high school Peggy attended a year at Adrian College. That first summer after school she took a job in Washington DC working for the government. She stayed in DC, married and had Gail. She often told stories of the hardship of raising a baby so far from home at such a young age. When Gail was still a baby, she moved back to Clawson to start a new life as a single mom. That's where she met Bob; he was helping his brother build his home across the street.
Peg married Bob in 1955 and settled in Clawson in a home they would stay in most of their lives. They raised their daughters there adding on to accommodate their love of entertaining.
While raising a young family, Peg also attended Wayne State University. She student taught when her oldest daughters were in school and when her youngest daughter was born, she started teaching full time in Clawson elementary schools. She went on to earn her Master's degree from Wayne as a reading specialist while working and raising her family.
Teaching was Peg's greatest joy. She was an actively engaged teacher, planning activities to enhance the learning experience. Her students baked, made butter, learned how to run a business and had fun art and music projects. After retiring in her 60's, she continued to talk about her students and their accomplishments and advancements.
Peg became Audrey when she and Bob moved to Lake City after retiring. The family cottage became their new home and they embraced life in Lake City. Audrey joined a local choir and became active at the Lake City Methodist Church. Through the church they made new friends and retirement became a pure joy. They traveled around the US with their trailer including several trips with 2 of their granddaughters. The lake became their grandchildren's playground.
Audrey loved spending time with her grandkids, from having them help in her school room to spending time in the summer up at the lake. She was the best grandma.
Previous Events
Memorial Gathering
Gramer Funeral Home
705 North Main Street
Clawson, MI 48017
Service
Gramer Funeral Home
705 North Main Street
Clawson, MI 48017