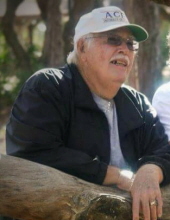 Obituary for Harvey L. Kinsman
Harvey Louis Kinsman, 84 after living a life of devotion to his family and our Lord, returned to Heavenly home on March 2, 2018 surrounded by his children and his sister while singing praises and the music that he loved. His job here on earth was done.

Harvey, born to Frank and Naoma Kinsman on October 22, 1933 in Belding, a small town in West Michigan. They would move to the Detroit area where he would begin his work for the Lord. While attending State Fair Church of God, Harvey would met the love of his life, Geraldine Lemons.

In October 1952 the two eloped and were married in Iuka, Mississippi. The Lord blessed them with five children, and so the story begins.

Harvey was a hard worker and his hands wore many different gloves. By trade he was a Barber and a Corrections Officer. Immersing his life in God's work he served as teacher for many different age levels in Sunday School and Junior church, where he was a Bus driver and Youth Leader. He loved working for the Lord. Even on his death bed he would find an opportunity to speak to others about Jesus.

Harvey's love for his family and spending time with them was very apparent. He had a zest for life and loved sharing it with his children, whether flying down a hill on a toboggan or ice skating on the rink built in his parents backyard by his father, Frank. He loved to take the family camping in the summer, or just going for a Sunday drive admiring God's handiwork such as the freshly turned soil of a farmer's field or the new corn peaking through the soil. He loved the simple things. It was about the time spent together not the money spent.

One of Harvey's greatest joys was becoming a Grandpa and the Lord certainly blessed him in that role. He loved his grandchildren, all seventy-eight of them (yes you read that right), twenty grandchildren and fifty-eight great-grandchildren. All those years working with children and youth were days well spent, training for the future. Although he may not be able to name them all, he loved each and everyone of them.

Harvey is survived by his wife of sixty-five years, Geraldine, his children Kathy (and the late Steve) Langsdale, David (Judy) Kinsman, Vicky (Tim) Langsdale, Linda (Rick) Gunderson, and Carolyn Kinsman; Twenty grandchildren and their spouses; fifty-eight great-grandchildren; siblings Robert (Barbara) Kinsman, Lee (Frank) Zimmanck, Dorcas (Harold) Mertes; and many nieces and nephews and their families.

Visitation will be held from 2:00 pm to 8:00 pm on Thursday March 8, 2018 at

Gramer funeral Home
705 North Main street
Clawson, Michigan
(248)435-9010

Visitation Friday March 9,2018 10:00 am
with a celebration of Harvey's life immediately following at 11:00 am
these will be held at

Evanswood Church of God
2601 E Square Lake Rd
Troy, Michigan 48085

Harvey loved music; at anytime you would hear music playing in the background. He never learned to read music, however, he could hear a tune and play it on the organ. Harvey served on the worship team in his retirement . He enjoyed music right up until his last breath, being serenaded in good Ole Gospel tunes sung by his family.

His body had grown weary,
his mind filled with fog,
He had fought a good fight
& was ready to meet the Lord

He has risen with the angels
& his journey is done.

"Spread your wings as you go" dear Father
God has taken you back now,
Hallelujah you are home.
Previous Events
Visitation
Gramer Funeral Home
705 North Main Street
Clawson, MI 48017
Service
Evanswood Church of God
2601 E. Square Lake Road
Troy, MI 48085