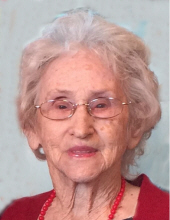 Obituary for Marjorie Ruth Prince
Marjorie Ruth Prince, age 93 of Shelby Township, died January 15, 2018 at her home. She attended Utica High School and was a charter member of Covenant Baptist Church for 61 years. She married Arthur Prince in Tennessee and he predeceased her in 1985. She was a homemaker who loved to quilt and do canning. She was a member of the Eastern Star and a Red Cross Volunteer. She is survived by her children, James (Gail), Charles, Gary, Arthur (Judy), Debra (Robert), and Diane as well as 16 grandchildren and 27 great grandchildren. She is also survived by her sister, Gladys and sister-in-law, Marva Ogle. In addition to her husband, she was predeceased by her parents and eight siblings.

"To her grandchildren, Marjorie was known as Nannie. She made it a point to spend time with all of her grandkids, even those who did not live close. She was truly always there and never missed a birthday party or an event that she was invited to. She routinely kept her grandkids overnight for sleepovers, where there would be stovetop popcorn, homemade ice cream in the summer and snow cream in the winter, stories read before bed including Corduroy and The Three Little Pigs. She loved taking the grandkids to church on Sundays, on weekly summer camping trips, or just having them all together to play in the backyard where they built their own fort. There were also many family road trips to the Smoky Mountains in Tennessee.
There were many family traditions, like the annual Christmas Eve party, her famous Harvest Dinner every Fall, and Sunday dinners after church. She canned fresh tomatoes, made homemade pickles from fresh picked cucumbers. and made fresh picked strawberry jam and then passed those traditions down. She made the best peach cobbler, fried okra, and homemade biscuits and gravy ever.
She even made handmade quilts for each of her children and grandchildren that will be cherish for years to come. Marjorie was a charter member of the Covenant Baptist Church, which is 61 years strong. She was very involved in the church services and activities, and enjoyed teaching Sunday School. She took great care of the elderly and never had a bad word to say about anyone. She had the biggest heart and there was always room at her table or in her home for anyone who needed it.

She was a blessing to everyone she knew and will be greatly missed. Knowing she has an eternal home in Heaven brings peace to her family and they know they will see her again."
Previous Events
Visitation
Gramer Funeral Home – Diener Chapel
48271 Van Dyke Avenue
Shelby Township, MI 48317
Service
Covenant Baptist Church
11455 Canal Rd.
Sterling Hgts, MI 48314