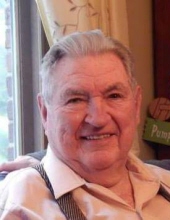 Obituary for Robert Harold O'Leary
O'Leary, Robert H. July 24, 1928 – January 7, 2018

Robert Harold O'Leary of Shelby Twp., Michigan, passed away January 7, 2018, at age 89. Born in Utica, New York, to Harold and Eileen (McCoy) O'Leary. Bob moved to Detroit, Michigan, and in 1950 married Shirley DuBois and they raised 5 daughters (all "favorites"). Bob married Sallie Sue Tackett Owens in 1980 following Shirley's death. Bob spent his career working for Chrysler Defense/General Dynamics, providing crucial parts for the Redstone and Jupiter missile programs, as well as for the U. S. Army tanks M1 Abrams and the M60.

Bob was a tinkerer and was known to be able to fix anything . He loved to work on cars and could determine the problem by simply listening to the engine. Bob was also a proud veteran of the U.S. Marine Corps.

Bob is survived by his loving wife of 37 years, Sallie Sue, his five daughters, Patricia Backus (Jim), Kathleen Thompson (Ken), Elizabeth Wagner (Fred), Linda Van Howe (Dave), Mary Davis (Bill), step-son Ronald Owens (Moon), 9 grandchildren and 9 great-grandchildren, his sister Nancy Militello and many nieces and nephews. In addition to his wife Shirley, he was preceded in death by his sister Mary Van Der Maas.

Viewing will take place on Thursday, January 11th from 2:00 p.m. until 8:00 p.m. at Gramer Funeral Home-Diener Chapel, 48271 Van Dyke Ave., Shelby Twp., MI. 48317.

Funeral services for Bob will take place on Friday, January 12th at Brookside Baptist Church, 52203 Mound Rd., Shelby Twp, MI 48316. Bob will lie in state at 10:00 a.m. until the service begins at 11:00 a.m.
Memorial Contribution