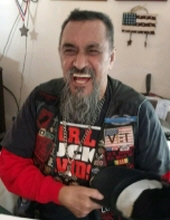 Obituary for Sisto (Cisco) Martinez Jr.
Sisto (Cisco) Martinez Jr, died December 26, 2017 at his home in Roseville, Michigan after a long and courageous battle against colon cancer, surrounded by many of his family and friends. He was 69.

He was born November 24,1948 in Waco, Texas to the late Sisto Martinez Sr and the late Rosa Garcia. He married Ann Strouse on April 30, 2017 at the "Blessing of the Bikes" in Mount Clemens, Michigan at the Gibralter Trade Center.



Sisto was drafted into the United States Army in 1969 and served 13 months in Vietnam earning the rank of Sergeant and he was awarded the Combat Infantry Badge. He received an Honorable discharge in 1971.



Cisco was proudly a biker and an enthusiastic member of the Viet Nam Vets Motorcycle Club for over 25 years. He was always a Brother.



Cisco never met a stranger because he treated everyone like he had known them forever. He greatly enjoyed riding his motorcycle and spent his days spreading joy and making memories with his friends, his family and his club Brothers and Sisters



In addition to his wife, Ann, Cisco is survived his step-daughters Kady, Kody, and Brandy and his 10 grandkids; his siblings; Marina, Joe Sisto, and Charles; nieces and nephews; Loretta Rose, Angela, Monica, Maria, CJ, Jeremy, Brandy, Sarah, Thomas, Larry, Tony, Frank, Will, and April. Also survived by many great nieces and nephews.



Cisco was preceded in death by his first wife, Bertha (Boom), and his siblings; Frank, Jimmy, Big Joe, Sidney, Raymond, Dora, Fay, and Phillip.

Funeral Information
Memorial Gathering on Wednesday, January 3, 2018 at 1:00 PM. Memorial Service at 2:00 PM at Gramer Funeral Home, Diener Chapel, 48271 Van Dyke (South of 22 Mile Road), Shelby Township, Michigan 48317.
Previous Events
Memorial Gathering
Gramer Funeral Home – Diener Chapel
48271 Van Dyke Avenue
Shelby Township, MI 48317
Service
Gramer Funeral Home – Diener Chapel
48271 Van Dyke Avenue
Shelby Township, MI 48317