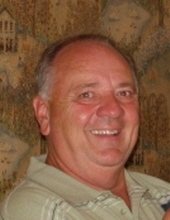 Obituary for Donald "Joe" Siterlet
Online Obituaries for the Troy, Royal Oak, Clawson & Shelby Township MI Area



Donald A. Siterlet 'Joe,' of Clawson and formerly of Royal Oak, passed away on December 15, 2017 in Royal Oak, Michigan at the age of 70. He was born on March 12, 1947, the first of six children to Donald and Betty Lou. He was given the nickname Joe as in G.I. Joe by his father, who served in WWII. It stuck and while he was professionally known as Donald, his family fondly knows him as Joe.



On February 28, 1969, Donald married the love of his life, Lilian Adair. Shortly after, the couple moved to Clawson, where they raised two daughters, Melanie and Jennifer.



Donald spent his career in the construction industry, beginning in residential with his father, and finishing his career in commercial construction with Kasco Incorporated.



When he wasnt working, you could find Donald on the golf course with family and friends or tending to the yard at his home in Houghton Lake. But his favorite thing to do was spend time with his grandchildren, Katie, Lauren, and Patrick. In sports or in life, he was their biggest cheerleader. His family always came first.



He will be dearly missed by his wife, Lilian; their daughters, Melanie (William) Hardy and Jennifer (Chris) Annetta; three grandchildren, Katie, Lauren and Patrick; his siblings, Judy (Dean) Perkio, Timothy (Maryann) Siterlet, Nancy Chinn and Thomas (Maurica) Siterlet and his mother, Betty Lou Siterlet. Donald is preceded in death by his father, Donald J. Siterlet and a sister, Mary.



Goodnight Mrs. Calabash wherever you are .



Funeral Information



Visitation will take place on Sunday, December 17, 2017 from 2:00 P.M. until 8:00 P.M. at Gramer Funeral Home, 705 North Main Street, Clawson, Michigan 48017 248-435-9010.