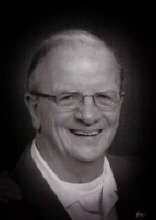 Obituary for Robert "Bob" Mullen
Online Obituaries for the Troy, Royal Oak, Clawson & Shelby Township MI Area



Robert 'Bob' Ignatius Mullen, 84 years old, of Royal Oak, Michigan passed away on December 25, 2017. He was born to his parents Joseph and Anastasia on February 16, 1933. He is survived by his loving wife, Dolores (Laboda); his children Robert (Andres Ambrocio) Mullen, Faith Mullen, Jacqueline (Bob) White, Kimberly (Kevin) Berch; and 4 grandchildren.



Robert graduated from St. James High School in 1951 and was a veteran of the Unites States Army. He married the love of his life, Dolores, on May 9, 1964 at St. Marys Catholic Church in Royal Oak, Michigan. They have lived in Royal Oak and have enjoyed marriage together for over 50 years. After retiring from Beaver Precision Inc. in Troy, Robert worked in Beaumont Hospital in Royal Oak and was also very active in the Greater North Woodward Group of Alcoholics Anonymous.



Robert touched the lives of many who knew him. He was greatly loved and will be dearly missed by his family and friends.



Funeral Information



Visitation will take place on Friday, December 29, 2017 from 2 P.M. until 8 P.M. at Gramer Funeral Home, Clawson, Michigan with a Rosary Service at 7 P.M.



The Funeral Service will be held at Guardian Angels Catholic Church 581 E 14 Mile Rd, Clawson, MI 48017 on Saturday, December 30, 2017 at 11 A.M., instate at 10:30 A.M.
Memorial Contribution
Alzheimer's Association, Michigan Great Lakes Chapter
To Donate by Mail: Send a check to: Alzheimer's Association Michigan Great Lakes Chapter 564 S Main St., Suite 200 Ann Arbor, MI 48104 To Donate by Phone: (734) 369-2716