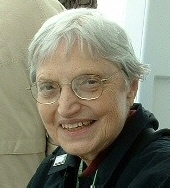 Obituary for Neva Weidig
Online Obituaries for the Royal Oak and Clawson, MI Area

Neva Hazel Weidig, 87, of Royal Oak, Michigan, passed away on December 26, 2013 at the Cambridge East Healthcare Center after a long battle with Alzheimer's. Neva was born on August 3, 1926 in Detroit, Michigan, the daughter of Vincent and Magdalene (Reinwald) Bartell. She graduated from Denby High School in Detroit in 1944, and received a bachelor's degree in religious education from Heidelberg College in Tiffin, Ohio, in 1948. She retired from her position as a leasing administrator in the real estate department at the Kmart headquarters in Troy, Michigan. Neva was an active volunteer for the Michigan Association for Children with Learning Disabilities, working tirelessly to improve the life of her daughter Katie and others with learning impairments. She was an enthusiastic Girl Scout troop leader for 15 years, always willing to help her girls achieve literally any goal they were willing to work toward. As such, Troop 1051 went on many camping trips, bike trips, canoe trips, and performed numerous service projects in the community. Many members of her troop maintained contact with Neva for years after leaving scouting. Neva was an avid Detroit Tigers fan and she loved to travel. In addition to yearly trips to Lakeland, Florida, for Tigers spring training, she enjoyed visiting Europe, especially Greece, Italy and England. She was also very fond of traveling in her home state and had a special love for the Great Lakes lighthouses, particularly the Crisp Point lighthouse on Lake Superior in Newberry. Neva also enjoyed the many family camping trips taken while her children were growing up especially the many hours spent singing around the campfire. She very much loved her children and greatly enjoyed their musical talents, whether attending their performances or singing together as a family at home. Neva is survived by her long-time friend and partner of 45 years, Dianne Chapman, constant companion and support in everything that made up Neva's life. Neva is survived by her children: Andrea Lawrence of Eagan, Minnesota, Susie (John) Harper of Mt. Pleasant, Michigan, Paul (Debbie) Weidig of Broomfield, Colorado, Katie Weidig of Farmington Hills, Michigan; her cousins: Trudy Backauskas, Dorothy Skilling, Everett Harrison; and many nieces and nephews.
Neva was preceded in death by her parents, and her brother, Vincent, of St. Paul, Minnesota.

Funeral Information

Visitation will be from 2:00-8:00 p.m. on Sunday, December 29, 2013 at the Gramer Funeral Home, 705 N. Main Street, Clawson, Michigan, 48017. Funeral services will be held at 10:00 a.m. on Monday, December 30. The family will gather with friends one hour prior to the service. Memorial contributions are suggested to the Community Living Centers, 33235 Grand River Avenue, Farmington, Michigan, 48336. Please share your thoughts and memories with the family at the funeral home or through www.gramerfuneralhome.com.