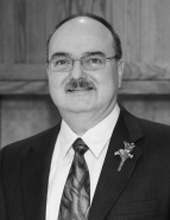 Obituary for Michael D. Gramer
Obituary for the Clawson, Michigan area.

Michael David Gramer was born February 25, 1957, in Mt. Clemens, Michigan.

He was raised in Clawson, Michigan by his parents Richard Dick and Marilyn

Gramer.



He completed his high school education at Clawson High School in 1975, and

shortly thereafter began a career in printing. The last seventeen years, Mike has

managed the bindery at Data Reproductions in Auburn Hills. Prior to working at

Data Reproductions, he spent eleven years each at Gaylord Printing Company

and Graphic Enterprises, both in Detroit.



In 1973, Mike was introduced to the woman who would eventually become his

wife. On July 29, 1977, Mike and Marisa (Dunn) were married at Holy Family

Catholic Church in Detroit. They would go on to have three daughters, Theresa

(Jamie) Love, Andrea Gramer, and Christina (James) Smuda. He had

three grandchildren who he adored, Sydney and Grayson Love and Holden

Smuda. Mike is survived by his mother, Marilyn A Gramer (Schomburg), brother,

Richard Rick Gramer, sister, Karen Gramer, and nephew, Lucas Rich.



Mike is preceded in death by his father, Richard Dick Gramer.



Mikes greatest passion was his family and friends. He worked tirelessly to

provide the best possible life he could for his wife and daughters. He was a man

of many talents he could fix just about anything and was an amazing

woodworker. He loved to go for long, relaxing rides on his Harley Davidson

motorcycle or for a cruise around town in his Camaro. Mikes sense of humor and

quick wit was second to none, and to know him really was to love him. The loss

of Mike is immense, but he was greatly loved and he will be remembered with the

highest admiration.



Funeral Information



Visitation will take place at Gramer Funeral Home 705 North Main Street, Clawson, Michigan.



Tuesday, December 12, 2017 from 2 pm until 9 pm and Wednesday, December 13, 2017 from 5 pm until 9 pm.



Funeral Mass will take place at St. Augustine Catholic Church 68035 Main St, Richmond, MI 48062.



Thursday, December 14, 2017 at 11 am. Mike will lie instate at 10 am at church.



Burial at St. Michael Cemetery, Richmond, Michigan.