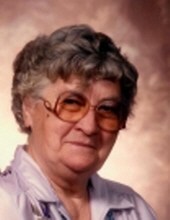 Obituary for Eunice Oleskie
Online Obituaries for the Utica & Shelby Township, MI. area.



Eunice Nora Oleskie of Armada, Michigan died Saturday, December 9, 2017 at Advantage Living Center in Aramada, Michigan. She was 96 years old. Eunice was born December 22, 1920 in Ralph, Michigan to Peter and Nettie Mae (Maiden name: Burgess) Curto.



Eunice is survived by her children Pete (Carol) and Ray (Kathy), 8 grandchildren, 22 great grandchildren, 5 great great grandchildren. Eunice is also survived by her sister Eleanor and brother Andrew.



Eunice is preceded in death by her loving husband Cyril Joseph Oleskie on March 12, 1991 and her sons Cyril Jr. and Ronald and daughter, Maryann Lesinkie.



Funeral Information



A Funeral Service for Eunice will take place at 11 am Wednesday, December 13, 2017 at



Gramer Funeral Home, Diener Chapel



48271 Van Dyke Avenue



Shelby Township, Michigan 48317



Visitation at the funeral home will be Tuesday, December 12, 2017 from 4 pm until 9 pm.