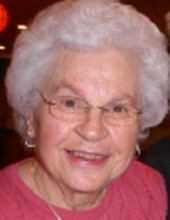 Obituary for Carolyn Joan Rumbold
Online Obituaries for the Troy, Royal Oak, Clawson & Shelby Township MI Area



Carolyn Joan Rumbold passed away on December 11, 2017 at age 87. She was born and raised in Flint, the daughter of Thelma and Claude Stout. Carolyn married Jerry in 1950 and they lived in Royal Oak for 60 years, lovingly raising 5 children. She was a supportive, encouraging force, always offering her children every opportunity to excel. She is survived by those children: Brenda and Douglas Molinar, Paula and Kenneth English, Marcia and Dan Dosson, Glen Rumbold, and Claudia Harbes. She has eleven grandchildren: Andrea, John, Tracy, Kelly, Carl, Brian, Laura, Craig, Scott, Kurt, and Kimberly; and twelve great grandchildren. Her brothers Charles and Donald pre-deceased her. She is survived by her sister-in-law, Beverly Stout.



Carolyn was a longtime-member of Guardian Angels Catholic Church, and a former member of the Altar Society. She enjoyed bingo and bowling, but not until you played cards with her did you see her animated spirit! She was an excellent shuffleboard player, serving as captain of the Sunshine League for many years while snow-birding at their St. Petersburg, Florida mobile home park. She enjoyed world travel with Jerry in their retirement and preferred restaurants as a well-deserved refrain from cooking.



Funeral Information



A memorial mass will be held for Carolyn at Guardian Angels Catholic Church, 581 East 14 Mile Road in Clawson on April 21, 2018 at 11:00 a.m.. Burial will be at White Chapel Cemetery in Troy. In lieu of flowers, memorial contributions can be made to the Susan G. Komen Breast Cancer Foundation.