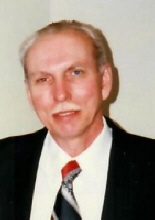 Obituary for David Crumley
Online Obituaries for the Troy, Royal Oak, Clawson & Shelby Township MI Area



David Crumley, 76, of Troy, Michigan passed away December 3, 2017. He is the youngest child of the late Clyde & Doris Crumley. He is survived by his loving wife, Colleen (nee Losey); daughters, Yvonne (Eric) Johnson, Lisa; sister, Jeannette Cuthbertson, several grandchildren, nieces & nephews. He is preceded in death by his older brother, Lawrence, in 2003.



David was a proud veteran of the United States Air Force. He was employed by Limbach and retired in 2002 after 40 years as a Sheet Metal Worker in Building Trades with Union Local 80 and he was also a member of Guardian Angels Catholic Church. David loved spending time with best buddy, family cat, Max. He also enjoyed taking care of his yard, flower beds and feeding the squirrels. You could often find David hanging out at the counter at local coffee shops and restaurants where he would be talking with the other customers. Not only did he keep busy by dropping in to bowl with the Troy Seniors, but often he and his wife would either take a day trip or a boat cruise with them. David was a sports fan and liked Detroit Tigers, Detroit Red Wings and was a die-hard Detroit Lions fan -- win or lose even if that meant getting laughed at a lot because of his dedication to the team! His hope was to see the Lions in the Super Bowl at least one time before he passed away, but it wasn't meant to be!



Funeral Information



Service will be Thursday December 21, 2017 at 10:30am, at Gramer Funeral Home.