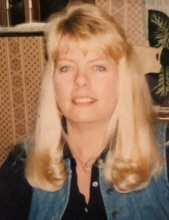 Obituary for Sherry Jean Cantrell
Sherry Jean Cantrell, 64, of Royal Oak, Michigan, passed away on Wednesday, November 21, 2018. She was born in Cookeville, Tennessee on October 4, 1954 to William (Bill) Alf Cantrell and Jean Bennett. She was preceded in death by her father. Sherry was a loving daughter, sister, sister-in-law, girlfriend, and aunt. 

Sherry was a 1972 graduate of Clawson High School. She loved her classmates, and she regarded the time she spent in school as some of the best years of her life. Sherry worked in various office management positions, including in the medical and construction fields. She was also Vice President, Treasurer, and Co-Director of the Therapy Choirs of Michigan, a non-profit organization dedicated to the healing of individuals with brain injuries and disabilities through the power of music. She loved animals of all types, especially dolphins. She had strong faith, and always fought for what she believed was right. 

Contributions in Sherry's memory can be made to the Therapy Choirs of Michigan and the Detroit Zoo. 

Per her wishes, Sherry's ashes will be spread amongst the dolphins in the gulf of Mexico near St. Petersburg, Florida, where she spent many of her happiest moments with her family. 

Sherry is survived by her mother, Jean; her brother Alan (Sherrie); her two nephews, Alex and Christopher; her boyfriend, Len McCulloch; and many close relatives and friends.
Memorial Contribution
The Therapy Choirs of Michigan
24477 Buchanan Ct., #1887
Farmington Hills, MI 48335