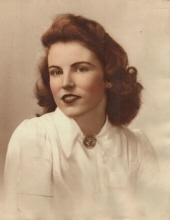 Obituary for Rita Ann Rhoades
Rita Ann Rhoades passed away the evening of October 25, 2018 with family at her bedside. Rita (Mineweaser) was born November 6, 1922 in Osceloa Mills, Pa, the third daughter of Albert Mineweaser and Margaret O'Farrell Mineweaser.

Following high school graduation Rita moved to Philadelphia to live with her two older sisters, and later followed them to Detroit where mom met and married Francis W. Rhoades in 1949 at the St. Mary Church in Royal Oak, Mi. Rita and Francis proceeded to have a big, loving, and boisterous, family: eight sons and two daughters including Terence John (Anne), Robert Francis (Carol), Michael James, Thomas Joseph (Deborah), Peter Gerard (Amy), Timothy Paul (Teresa), Mary Anne (Gary Dasin), Patrick Joseph (Julie) Cecilia Marie and James Charles (Cassie). In the 50's, 60s, 70s and 80s the big house on Sunnybrook in Royal Oak was always a busy place with frequent family parties celebrating birthdays, holidays, christenings, and later, weddings. In late 1982 the first grandkids began to arrive….

The sons and daughters of Rita and Francis have expanded the family considerably with 21 grandsons and granddaughters including Daniel and James (Terry and Anne); William, John, and Sarah (Bob and Carol); Kelly, Christine, and Courtney (Mike and Barb); Connor, Olivia, Abigail (Tom and Deb); David and Joseph (Pete and Amy); Brendon and Brianne (Tim and Teresa); Stephen, Chris and Matthew (Mary and Gary), Allyson (Cecilia) and Lucy and Frank (Jimmy and Marcie). 

Rita's great grandchildren (twelve so far, with another arriving soon) include John, Colin, Emerson, (Kelly and Seth Haley); Finnian and Devin (Daniel and Jennifer Rhoades); Eleanor, Frederick Owen; (William and Jennifer Rhoades); Ozlow (Christine and Buzzy Griswold), Henry; (John and Julie Rhoades); Bennett, (Allyson and Austin Shaeff); James (Courtney and Keith Bacca).

Francis Rhoades passed away in September 1993. Rita and all of us have missed dad a lot for these many years and we are all very pleased that mom is finally able to be with, once again, the love of her life. Mom, the 3rd oldest of 11 kids herself, always enjoyed having babies in the family, and enjoyed the frequent visits and gatherings of her large, extended family. Rita will be missed; but long remembered as a kind, patient, loving, nurturing and wise mother, grandmother, and great grandmother. Mom and dad made all family and guests welcome to the house on Sunnybrook, and the wonderful memories will be with us always.
Previous Events
Visitation
Gramer Funeral Home
705 North Main Street
Clawson, MI 48017
There will be a rosary service at 7:00 PM.
Service
Guardian Angels Catholic Church
581 East Fourteen Mile Rd
Clawson, Michigan 48017
In state at 10:00 AM
Memorial Contribution
National Right to Life
National Right to Life, Attn: Development Department
512 10th St. NW
Washington, DC 20004
Guardian Angels Catholic Church
581 East Fourteen Mile Rd
Clawson, Michigan 48017