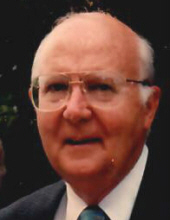 Obituary for Lawrence Paul Brissette
Lawrence Paul Brissette a long time resident of Shelby Township, Michigan passed away Wednesday, November 28th, 2018; at the age of 93. He was born on July 13th, 1925 in Detroit, Michigan to Emile and Nora (maiden name, Lawrence) Brissette.

He was a WWII US Army veteran. On October 6th, 1956 he married his wife, Edith. They were married for 52 years before her passing in 2009. He was an engineer at General Motors; which he retired from in 1985 after 40 years of employment. 

Lawrence owned a Model A car and a member of their club. He was a collector of trains, planes and automobiles. Also enjoyed sailing and traveling. His favorite places to travel were Colorado and the East Coast When on the East Coast he would enjoy Maine lobster and clam chowder. He also traveled to Florida where he enjoyed time at his second home.

He is survived by his daughters; Susan (Marty) Schmidt, Patricia (Joseph) Burns and Laura (Doug) Seniw. His grandchildren; Kathryn (Michael) Rehrauer, Bryan (Amanda) Schmidt, Ian Burns, Margaret Burns and Zachary Burns. His great grandsons; Grant and Luke Rehrauer.

He is preceded in death by his wife, Edith and his brother, Milton.


Funeral Service is private.