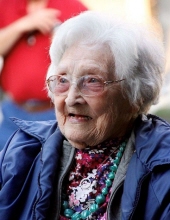 Obituary for Florence Kaltz
Florence Kaltz, age 95, died November 1, 2018 in Utica. She married Lawrence "Pete" V. Kaltz in Angola, Indiana. She is survived by her children, Larry (Kathy), Marty (Eve), Lillian Shakula and 10 grandchildren and 14 great grandchildren. She was predeceased by her parents, her husband, Lawrence, in 2014 and her son, Bob DeMeulenaere who died in 2017, as well as her siblings, Paul, Virginia Karn and Hank.

Grandma, Nanny Flo, Mom, Great-grandma, sister, Tante, and loving dedicated wife. Florence served in all of her roles with pride and honor. Those she let into her heart, she loved with her whole heart. Mom loved Petey, her husband of 50+ years. She took care of every need, which included nursing him through many surgeries, bathing and helping him dress each day, making delicious meals and showing him over and over again that she put his needs above her own.Mom experienced tremendous joy and many dreams were realized in her 95 years of life. She had four children, many grandchildren and even more great grandchildren. She would bake up a storm when family was coming up north to visit, and would make sure all sheets were fresh and clean. She would make sure that dinner was held and cameras were ready when the boys were out hunting. She'd stand ready with camera in hand hoping to capture the thrill on the faces of the hunters if they were coming in with a deer.When Floey's granddaughter Krissy was 5 months old, she spent 31 days in St. Johns's Main critically ill. Every morning Pete drove to the hospital, picked Eve up and dropped Flo off. Grandma sat in Krissy's room for 8-10 hours, never leaving for food or anything other than the bathroom. She was dedicated and committed to those she loved.Both dad and mom lived their last years of life with Marty and Eve in a home busting with lots of action and joy. Many little kids and lots of dogs frequently led to a wild rumpus, and both of them laughed out loud with the chaos. They loved to be a part of the action then looked forward to relaxing in their lift chairs when the craziness died down.We are thankful to have been blessed with Florence for over 95 years. We picture her united with her love and it brings join to us all.
Previous Events
Visitation
Gramer Funeral Home – Diener Chapel
48271 Van Dyke Avenue
Shelby Township, MI 48317
Scripture service at 7:00 PM
Service
St. Isidore Church
18201 23 Mile Road
Macomb, Michigan 48042
Instate at 9:30 AM at the church.
Memorial Contribution
Macomb Christian Church
13845 22 Mile Road
Shelby Township, MI 48315
In lieu of flowers, donations would be appreciated to the church